Janet's
Friday Fill-In #69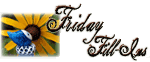 1. When I fell in love _
the world stopped
_!
2. _
I love it
_ when the flowers bloom and it heats up outside!
3. Oh no! The internet connection is down, _
and I am starting to have withdraw symptoms
_.
4. _
Reality Shows
_ are the craziest tv show ever.
5. Cheese and _
tomatoes
_ make a great meal!
6. _
I am thinking about starting
_ a garden.
7. And as for the weekend, tonight [Friday] I'm looking forward to _
going to the 15 years of LGBTQ History in Connecticut reception at the Elihu Burritt Library at CCSU
_, tomorrow [Saturday] my plans include _
working my take home exam for class
_ and Sunday, I want to _
go hiking, of course
_!